Similar Games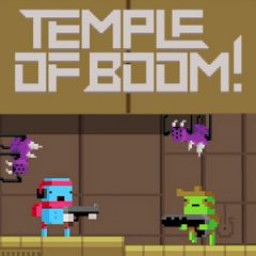 Temple of Boom
Description
Everyone will enjoy the compelling fight theme in Temple of Boom, an online game. Avoiding attacks from dangerous creatures is possible by killing them. There are three wicked creatures in each temple in the campaign mode. In the infinite mode, you have to kill every bad creature and stay alive. In readiness? To access intriguing prospects, join Temple of Boom right now!
Feature
Vibrantly colored 2D graphics.

There are many symbols and images to choose from.

Earned medals.

This game is entertaining and interesting.
Controls
In order to accomplish the task, players must move using the mouse. Player 1 may leap and move sideways by using the up and left arrows, respectively. To pick up a weapon, press the down arrow; to shoot, press Z. Player 2 has the following controls: jump or double jump; side-to-side movement with the left and right arrows; picking up a weapon (down arrow); shooting with the K button; and swapping between weapons (l). Good for you!