Similar Games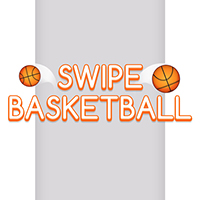 Swipe Basketball
Description
Swipe Basketball is a basic basketball game that everyone can play. Players will take on the task of swiping the ball towards the circle in order to gain points by tossing it into the basket. Now is the time to get together with your pals and have some fun!
How to play
To move in the game, players must utilize the mouse or keyboard. The player's goal is to maneuver the ball over the obstacles and put it into the basket as many times as possible within the time limit.
Pay attention to the time limit and attempt to finish as quickly as possible. Gain additional points with your ball, but don't miss the round or you'll lose it. Best of luck in winning the cup!
Features
Players are drawn in by the attractive images.

There are a lot of fun tasks with appealing prizes.
Controls
The player moves and throws the ball into the basket using the mouse or keyboard at the start of the game.